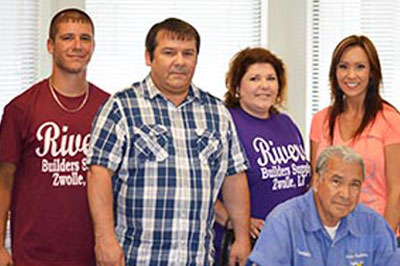 Rivers Builders Supply was founded in 1972 by Freddie Rivers. Freddie worked in new home construction for 12 years and at the age of 26 began inspecting new home construction for the Federal Housing Association.

One day at work Freddie was approached by a builder having a hard time finding lumber and asked him for a favor. That day the one man operation was born. Freddie began selling, picking up, and delivering lumber to local builders. Freddie's experience as a fellow carpenter shaped the values he wished to instill in his supply business: provide only high quality material and have it when they need it.

One at a time Freddie began building stock sheds behind his house to hold more and more varieties of building material. Over 35 years of ups and downs Freddie slowly grew his back yard one man operation, and in 2005 built a new updated yard now housing over 70,000 sq ft. of cover lumber, 7 delivery trucks, 5 forklifts, and a professional team of workers.

Today Rivers Builders Supply is not only holding on to those values but taking them to the extreme, offering the highest quality, widest selection, and most professional service in the Toledo Bend Area.

Stop in today and visit with Freddie. His door is always open and the coffee pot is always on.